Dentistry for Kids


Ann Arbor, MI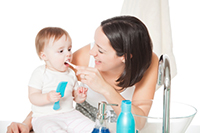 At Greashaber Dentistry, you would be surprised how often we hear parents say caring for their young children's teeth isn't important because "Baby teeth are just going to fall out anyway."

So while, yes, your child's baby teeth will fall out eventually, their gums, jaw, and the adult teeth waiting to come in are going to be with them for life. The same bad dental care habits that lead to a tiny cavity in a tooth that will fall out can also lead to gum disease that could cause issues for your child into adulthood.

The Center for Disease Control and Protection (CDC) estimates that one in five children has untreated tooth decay. It is a common problem and one that may not show any early symptoms.


How to Care for Kids Teeth

According to the American Academy of Pediatric Dentistry, a child should be brought for a dental exam by their first birthday or when their first tooth appears in order to prevent dental problems from developing.

When you bring your child to the dentist for his or her first cleaning, we will go through many of the same exams we do for adults but tailored for those of a young age. We'll examine their teeth and gums, check their overall dental health and look for any potential problems. If needed, we may also do a gentle cleaning.

In addition to scheduling regular dental visits, it's also important to start good dental care at home. For babies that means regularly wiping down their gums, and for toddlers it means starting to actually brush their teeth with a child-safe toothpaste. Starting good habits now will pay off later when it comes time for them to brush their own teeth.


Make Brushing Teeth Fun

There are many ways to help kids get in the habit of brushing their teeth correctly and for the right amount of time. The best advice we can give is to use the activities your child already likes to do and incorporate them into the brushing activities.

If your child is big on coloring, put a chart and some crayons in the bathroom so they can color in a picture every time they brush their teeth and track how many days in a row they met their goal.

If they are really into music, find their favorite song and play it for two minutes as they brush their teeth, so they learn how long the process takes.

Include your child in the process of picking out a fun toothbrush and toothpaste that matches up with their favorite flavor, so they have more of a connection to the process.

Your child complaining of a toothache shouldn't be the first time you call Greashaber Dentistry to make an appointment. Get ahead of any major dental problems and start your child's good oral hygiene habits early by calling us at (734) 662-1113 to schedule a visit.